---
COVID-19; a magazine

---
Semester

---
Mentor

---
Team

---
Tools


2nd

Year, Summer 2020
---
Julia Wittich
---
/
---
InDesign +
Illustrator +
Photoshop +
HTML/CSS
The editorial magazine "COVID-19" offers readers a glimpse into everyday life during a pandemic where being alone and isolating oneself must be forced. The magazine focuses on social distancing, how best to cope with such a new situation and to what extent one can continue to live one's daily life partly as usual. My chapter deals specifically with staying healthy during this pandemic. Since we were on our own the whole time, I use monologues and more intimate texts that express our feelings and thoughts about our situation.

+ The magazine was the result of a collaboration with five other people in the group. Due to the online study and lockdown, content and design could not be effectively discussed in person, so we agreed to compose the magazine from five different chapters each. The individual chapters were distinguished by respective colour coding. Despite individual design and content, all chapters united very organically into one magazine through continuous, fixed parameters such as font, font size and chapter content indexes.

---
(1) Magazine cover.
---
(2) #ffed00, the colour code for my chapter. I cleverly bring colour into the concept, using it in images and typography
and let it be a constant part of the magazine.

---

(3+4+5)
"A receipt as a free pass to walk around".
Bilingual interview with my aunt Toñi from Spain during the lockdown.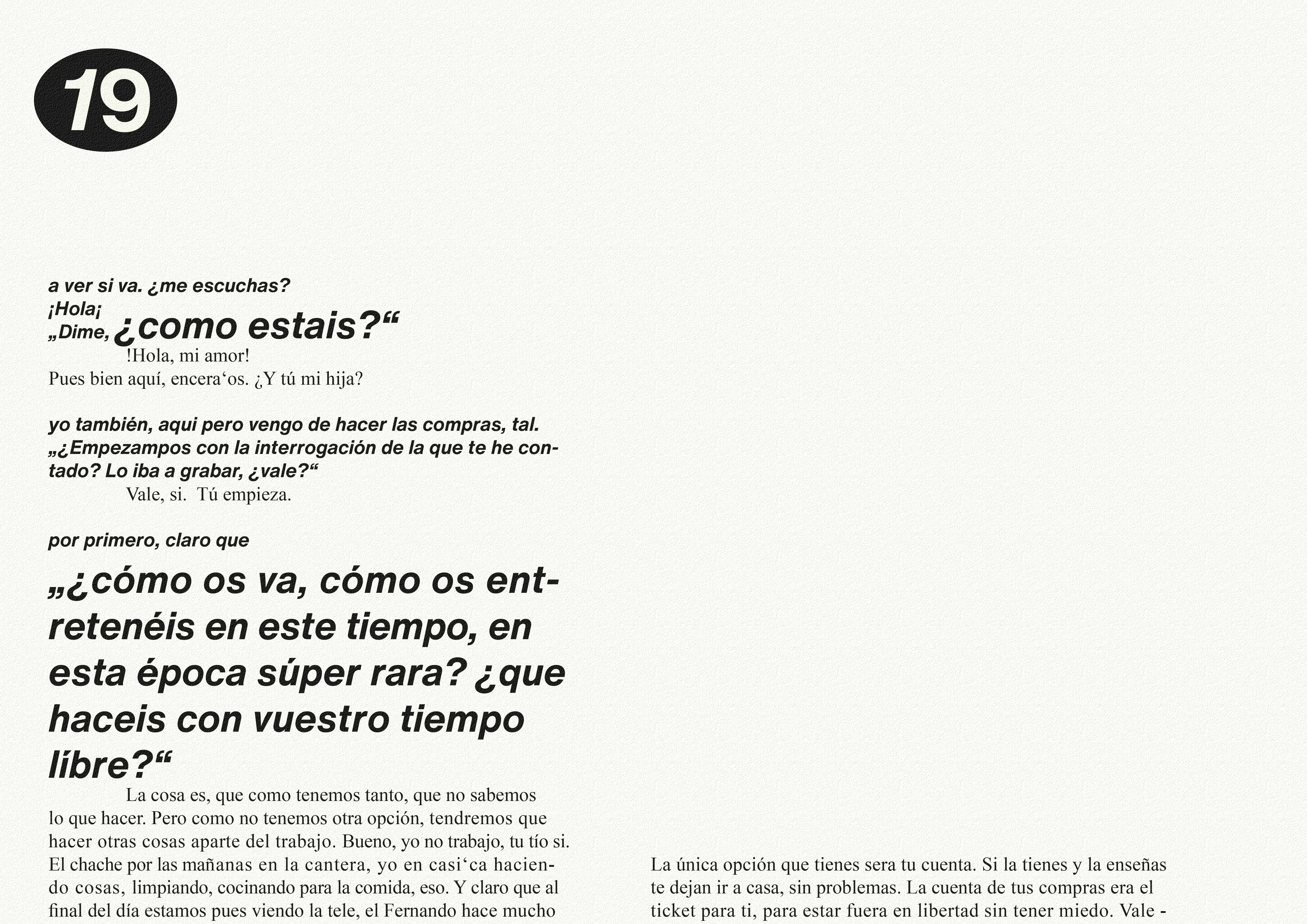 ---
(6+7+8+9) In my articles, I address problems that we encounter in everyday life during the pandemic. For example, how to stay healthy at all or how best to deal with social distancing. In addition, my chapter deals with mundane thoughts on various hygienic aspects in times of COVID-19.
---
(10+11) Monologue about packaged and unpackaged products and going out in times of a pandemic. All of the photos used in my chapter were produced during this time and were taken by me.

---
(12+13+14+15+16) In addition to our magazine, we designed an adapted website where you can click through the chapters online. Each chapter was mocked up with Cinema4D and I additionally made a rotating animation of the magazine.